Photo of President Clinton hugging his girlfriend, Monica S. Lewinsky
This photo was taken on November 6, 1996, the day after Clinton was re-elected.

Nobody seemed to notice or to care at the time that the woman hugging the President was not his wife.

Does anybody care now? I don't.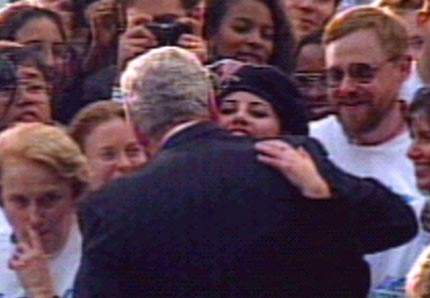 President Clinton hugging Monica Lewinsky
---

Here are Online Videos of Monica Lewinsky

Sensational Breaking News: Lewinsky finally admits it: "I did it for the President".

Monica S. Lewinsky has a new Hair Style.


The poor guy can't get a girl! Here are All the President's Women. The latest rumors concern Kathleen Willey, White House Contributor and Debra Schiff, White House Receptionist, plus Elizabeth Ward Gracen, a former Miss America, plus Sherrie Densuk, model and former White House intern.
Read about Bill and Hillary's Platonic Relationship: The Platonic Relationship of America's First Couple .


Here are links: The "other woman" in Bill Clinton's life: Susan McDougal, the woman who has sat in prison for more than one year to protect her president .
The Latest Look at Monica S. Lewinsky
What Jerry Falwell has to say about Bill Clinton
President Clinton's Girlfriend
Clinton to Divorce Hillary and Marry Monica: Lewinsky to BecomeNation's First Lady.
---
Here are links:
---
Contact address - please send e-mail to the following address:
Sloan@ishipress.com