Lewinsky Reaches Immunity Deal With Starr
July 28, 1998
Monica Lewinsky has been given immunity in exchange for testimony in Kenneth Starr's six-month investigation of her relationship with President Clinton, Lewinsky's attorneys said on Tuesday.

"For her full and truthful testimony, [Lewinsky] will receive transactional immunity," Plato Cacheris told reporters. Transactional immunity is full immunity from prosecution.

Lewinsky's lawyers, Cacheris and Jacob Stein, reached the agreement Tuesday morning during a meeting in Starr's office, sources familiar the negotiations said.

Billy Martin, the lawyer for Lewinsky's mother Marcia Lewis, announced that his client will also receive immunity for her testimony.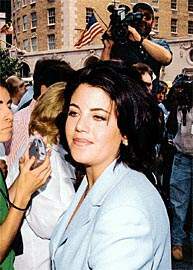 Monica Lewinsky yesterday
---

Lewinsky broke her silence on Monday, telling prosecutors she had sexual relations with the president, according to legal sources. According to the sources, Lewinsky's account included information that could be helpful for Starr's inquiry into allegations Clinton sought to cover up an affair with the former White House intern. However, Lewinsky reportedly said she was never asked to lie about the affair.

A source said Lewinsky's lawyers had earlier offered prosecutors "a fair amount of information" on Lewinsky's conversations with the president and several White House confidants on how to approach the Paula Jones sexual harassment lawsuit against the president. This original proffer apparently said, among other things, that Lewinsky would testify to having had a sexual relationship with the president.

Testifying under oath in the Jones case, Clinton denied that he'd had a sexual relationship with Lewinsky. Lewinsky later filed an affidavit in the case saying, "I have never had a sexual relationship with the president."

Linda Tripp, whose taped conversations with Lewinsky triggered Starr's investigation, arrived for her seventh day of testimony before the grand jury on Tuesday. Tripp's tapes reportedly include Lewinsky talking about a sexual relationship with the president.

"It's going to be an interesting week, we think," Tripp's spokesman, Philip Coughter said as his client entered the courthouse. A group of Secret Service personnel also arrived at the courthouse on Tuesday, and six additional uniformed officers have been subpoenaed to testify this week.

Lewinsky's agreement with prosecutors comes a day after a federal court rejected White House arguments claiming attorney-client privilege for Clinton confidant Bruce Lindsey, clearing the way for Starr to force Lindsey to answer questions before the grand jury.
---
Notwithstanding the above, the deal Lewinsky reportedly has made probably does not spell as much trouble for the President as it might seem at first. The testimony of Clinton never flatly ruled out the possibility of any sexual contact with Lewinsky. Rather, it was the testimony of Lewinsky which flatly denied having sex with the president.

Also, reading the fine print, it is clear that Lewinsky did not cave in and finally agree to testify against the President. To the contrary, Starr caved in and agreed to give Lewinsky full immunity, something which Starr had not been willing to give before.

Lewinsky can now say anything she wants. She can even say that she never had sex with the President. If she says that, she can only be prosecuted for perjury. She will now have full immunity from prosecution for any other crimes she may have allegedly committed.

Since it is now apparent that Lewinsky herself wrote the "talking points" memorandum, she could have been prosecuted for that, since the talking points memo implies that Tripp should lie. This is probably what induced Lewinsky to make the deal she made with Starr.

There is a larger issue here, as almost everybody has noticed. A majority of Americans feel that the President of the United States has the right to have a girlfriend, as long as his wife has no objection. Indeed, throughout history, the king or ruler of any country had the legal right to have sex with any woman in his rehlm. This was known in French as "droit du seigneur".

Americans elected Clinton as president twice, even though they knew that the President allegedly had a mistress named Gennifer Flowers. Does Ken Starr, with his weird perverted ideas about sex, have the right to bring down a president whom the American people elected?

Sam Sloan
---
Here are links:

Contact address - please send e-mail to the following address: Sloan@ishipress.com