Debra Schiff - White House Receptionist - Rumored Linked to President
Star Magazine, another one of those highly reputable publications, reports that the White House receptionist was in a sexual tryst with President Clinton, according to Mike McGrath, the White House Butler.

Outside of Star Magazine, no photo of Schiff has been published yet, but one report says that she is "a knockout".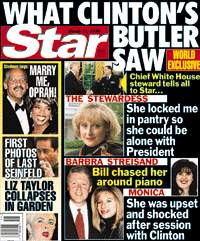 ---

UPDATE: It is now revealed how Debra Schiff got her current job as official White House receptionist. Previously, she was an airline stewardess and was assigned to the future President's campaign flights. She often allowed the President to feel her up while on the plane.

In one incident, another stewardess, Cristy Zercher, allowed the President to grope her for 40 minutes, until a jealous Debra intervened and told the President to go back to his seat.

Here is a link: Steamy stories from Bill's butler

Join the 35,000 Feet High Club Today! No dues to pay, but open only to those who qualify. Yes, I want to Join the 35,000 Feet High Club!
---
Here are links:

Contact address - please send e-mail to the following address: Sloan@ishipress.com