My Daughter, Shamema Honzagool, has graduated from the US Marines Boot Camp
The graduation ceremony took place on August 18, 2000 at 9:00 AM at Parris Island South Carolina.

Parris Island is located in an alligator swamp.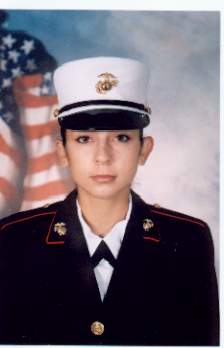 PFC S H Sloan
a/k/a Shamema Honzagool Sloan


Shamema has been promoted to Private First Class.

My daughter has completed Marine Combat Training ("MCT"). My daughter is now an expert in hand-to-hand combat.

However, my daughter still needs to practice her amphibious landings.

I visited my daughter at Parris Island during Family Day on August 17, where she gave me this photo.

However, the next day, General S. A. Cheney, commander of the camp, banned me from attending the graduation ceremony due to a problem with FBI agent Mike Hagen.

Shamema will next go to Camp Lejeune North Carolina and she will go to Marines' Aircraft Maintanence School, where she will learn how to maintain and service F-14 and F-16 jet fighters.

Sam Sloan
---
UPDATE: Shamema is now in VMA-214, the Blacksheep Squadron
---
UPDATE: My daughter is stationed at Al Jaber Air Base in Kuwait.

Shamema is now a corporal. Shamema said that she is one of the people who stands on the flight line and when the planes that do come back from bombing come back she disarms the weapons. So she is one of the first to know if they dropped bombs. see she arms and dearms all kinds of stuff including harriers but the harriars do not do any of the super dangerous stuff you know. She also disarms and arms F-18's F-16's and A- 10's.
---
Here are links:

My Home Page

Contact address - please send e-mail to the following address: Sloan@ishipress.com