Wanted for Kidnapping
The public prosecutor of Fujairah, United Arab Emirates, charges that on October 7, 1990, Charles and Shelby Roberts did kidnap Shamema Honzagool Sloan, a child of 8 years old at that time.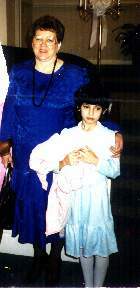 Shelby Roberts holding my daughter Shamema
This photo was taken within days after Charles and Shelby Roberts had succeeded in kidnapping my daughter. The photo shows an obviously happy Shelby, proud of having succeeded in kidnapping my daughter, and my obviously unhappy daughter.
This photo was mailed to me anonymously. I do not know the source.
---
Charles Edward Roberts
d/o/b 4-14-1934
---

There is an international INTERPOL warrant outstanding for the arrest of Charles Roberts for this crime.

The child has never been returned to either her mother or her father and is still being held by Charles and Shelby Roberts.
The Kidnappers - Charles & Shelby Roberts
Charles Roberts - The Kidnapper: Here is: More information about Charles Roberts.

Here is: More information about Shelby Roberts.

THE NATION in Bangkok, Thailand has just reprinted an article from archives about me and my daughter, Shamema. This article explains, in part, how Charles and Shelby Roberts were able to kidnap my daughter, as they did one month after the article was published, and get away with it. They claimed that they had legally adopted my daughter and she was their's by right. This was a lie. They had not adopted my daughter and still to this day, eight years later, have not adopted my daughter. However, once they got their hands on my eight-year-old daughter and disappeared, there was no way for me to get her back.

Here is: The Bangkok Nation Article dated September 12, 1990.

In addition to claiming that they had adopted my daughter, Charles and Shelby Roberts falsified other facts as well. For example, they claimed that they were 36 and 32 years old and that Charles Roberts was an engineer. In reality, they were 56 and 52 years old and Charles Roberts was an unskilled laborer running a grinder machine in a factory. These falsifications were obviously made to project an image of themselves as persons qualified and capable of caring for a young child.
Honzagool, the distraught mother of the child
---
---
Contact address - please send e-mail to the following address:
Sloan@ishipress.com
Here is Why Officials of the "Commonwealth of Virginia" can robb, steal and kill with impunity, and often do so.
Here is some of the evidence proving that Charles and Shelby Roberts really did kidnap Shamema Honzagool: Here is the note left behind by Shamema when she was kidnapped: The Note. Here is airline ticket purchased by Charles and Shelby Roberts and the flight reservation made by Charles and Shelby Roberts: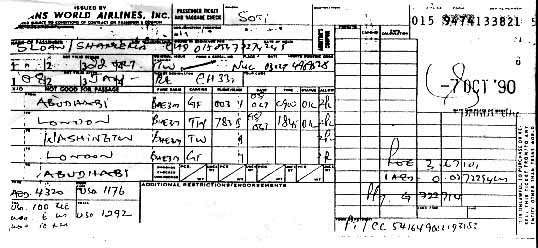 ---
Jay Roberts, son of Charles and Shelby Roberts, is now asking for donations of $4,800 to help him Spread the Gospel

. Here is: Map to the House of Honzagool.
---
What do you think? Express your opinion in the guestbook!
---
Here are links: