Complaint to Virginia Judicial Inquiry and Review Commission
Sam Sloan
1320 Bushwick Avenue
Brooklyn NY 11207

(718) 602-2737
sloan@ishipress.com
http://www.anusha.com/inquiry.htm

January 26, 1999

Donald H. Kent, Counsel
Virginia Judicial Inquiry and Review Commission
P. O. Box 367
Richmond, Virginia 23218-6636

Dear Mr. Kent,

I am discouraged to learn that Judge Michael Gamble seems to be on the fast track to being reappointed on February 1, 1999 for another eight years as circuit judge and that there is nothing that can be done to stop this monstrous criminal from continuing to harass and vex me and my entire family. The crimes committed by Judge Michael Gamble, including kidnapping an 8-year-child girl and stealing an old woman's house and money, are vicious and heinous. At a minimum, Judge Gamble should not be allowed another six years as a judge unless he returns all the money, property, house and daughter which he has stolen from my family. Judge Gamble needs to spend at least the next eight years in prison, not as a judge.

Ismail Sloan, left, Shamema Sloan, center, and Marjorie Sloan, right, in Abu Dhabi, United Arab Emirates in 1988. In spite of this idyllic scene, at the time this photograph was taken, everybody in this photo was essentially a fugitive, because Charles and Shelby Roberts were trying to kidnap Shamema Sloan, and Creighton Sloan was trying to kidnap his own mother.
---

I feel that the facts of my cases are well known. Certainly every judge in Virginia has heard of these cases, because every judge in Virginia has disqualified himself from hearing these cases, except for Judge Gamble, who insists that he alone can hear them.

Let me go back and explain the history of this all: The problem first became apparent on September 3, 1986, a date etched in my memory, because I was standing in the courthouse of the New York Supreme Court before Judge Kristin Booth Glen, who had scheduled a hearing that day on the custody of my two children, Peter and Mary Sloan. This was a firm date for the final hearing, because the case had already been postponed, always at the request of the opposing side, several times.

After the case had been called, but before the first witness could take the stand, Judge Kristin Booth Glen was called away because of an urgent phone call. When she returned, she said that she had just received a call from "Judge Larry Janow" of Amherst County Virginia who said that I had abducted my daughter, Shamema, from the Virginia home of Charles and Shelby Roberts. Judge Glen further stated that she had seen my daughter with me the previous day when I had come to her courtroom to check the calendar, so she knew that my daughter was with me in New York. Accordingly, based on receiving these representations from a fellow judge that I had kidnapped my daughter, Judge Glen said that she had called the police to have me arrested. The police arrived a few minutes later and arrested me. Judge Glen also stated that due to the highly inflammatory remarks she had heard from Judge Larry Janow, that she was disqualifying herself from the case before her and was sending it back for re-assignment to another judge.

Charles Edward Roberts, who kidnapped Shamema Sloan
---

The police took me, and my mother who was with me, to the police station on Mott Street and locked me up for about two hours. However, then they released me, saying that they had called Virginia and there was no warrant for my arrest.

This was the beginning of a series of outrageous acts by Judge Janow. In fact, I had not abducted my daughter from the home of Charles and Shelby Roberts. I had legal custody of my daughter. However, one week earlier, on August 27, 1986, the Roberts had filed a custody petition in the Amherst County Juvenile and Domestic Relations Court. Their petition was entirely frivolous. They had no legal right or claim to my daughter, plus my daughter was not even in Virginia at the time, plus the custody of my daughter had previously been extensively litigated in New York, so under the Uniform Child Custody Act, the Roberts would have to file in New York, if anywhere. In fact, the Roberts shortly thereafter retained New York counsel and filed a custody petition in New York, which was dismissed.

Nevertheless, the hearing which I had been awaiting for nearly one year before Judge Glen had been canceled and, in fact, the hearing never took place. Those two children, Peter and Mary Sloan, who are now of legal age, never saw their father again, except that my son now secretly meets with me. They grew up believing, and still believe, that I had stopped coming to see them and had abandoned them, because their mother has never told them about the extensive litigation involving their custody, or about my arrest.

I was completely caught off guard by these events in Judge Glen's courtroom for several reasons. The case in New York concerned my ex-wife Anda, and our two children Peter and Mary. How did Judge Janow know about that case? Furthermore, there had been no fact hearings before Judge Janow in Virginia. No formal pleadings or affidavits had been filed, no witnesses had been called or had testified. How did Judge Janow know anything about Charles and Shelby Roberts or about Anda in New York, especially since, due to threats I had received, I had been extremely secretive with regard to my personal matters, including especially the whereabouts of my children.

I eventually found out where Judge Janow had gotten his information. In late 1985, I had retained Michael Gamble as my counsel and had told him everything about my cases, including things which I had told nobody else at all. Only Michael Gamble knew about both Charles and Shelby Roberts in Virginia and Anda in New York. I had also given Michael Gamble a complete set of legal documents pertaining to my cases, which I had left in his office for several days.

Only three days after I had retained him, Michael Gamble withdrew from representing me and returned my retainer check. The documents I had given him were also returned.

In fact, during our meeting in his office, Michael Gamble had told me that Judge Janow was his best friend. This gave me encouragement to retain him as my counsel. However, I later realized that Michael Gamble had spilled the beans. Michael Gamble had told both his friend Judge Janow and his law partner Don Pendleton all the information I had given him about my children in confidence. Presumably, he had also passed this information to Frank Davidson III, the attorney for Charles and Shelby Roberts. Don Pendleton had passed this information to Anda's attorney in New York, and Anda was the very person whom I most needed to prevent from learning the whereabouts of my other child, Shamema.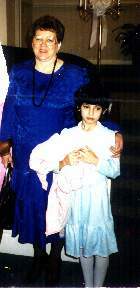 Shelby Roberts holding my daughter Shamema
This photo was taken within days after Charles and Shelby Roberts had succeeded in kidnapping my daughter. The photo shows an obviously happy Shelby, proud of having succeeded in kidnapping my daughter, and my obviously unhappy daughter.
This photo was mailed to me anonymously. I do not know the source.
---

Years later, I found a memo in the court file which said that in May, 1986, Judge Janow had had a private ex-party conference with Frank Davidson III about my case. It is now clear that Frank Davidson told Judge Gamble on that occasion that his clients, Charles and Shelby Roberts, wanted to obtain custody of my daughter Shamema, but they were reluctant to file a custody suit because, if they did so, they realized that I would fire Shelby Roberts as my baby sitter.

Because the Roberts could not openly seek the custody of my daughter, Judge Janow subsequently developed a plan. It appears to me that this plan was the idea of Judge Janow, and not of Frank Davidson III, although Davidson went along with it. This plan parallels what Judge Janow has done in other cases, including the Wilson case and the Durney case.

The plan was that Judge Janow would order my daughter detained in foster care and would have Charles and Shelby Roberts appointed as foster parents. After one year, the Roberts could seek to adopt my daughter, all without ever filing a custody petition.

There were several problems with this plan, one being that the Department of Social Services and not the judges of the J & D courts decide which children are detained and where they are placed. There were no agency proceedings involving my daughter. The Amherst County Department of Social Services was unaware that my daughter even existed.

When I appeared in the New York court with my daughter in September, 1986, there was another obvious problem of jurisdiction, especially since my daughter was born in New York and her custody had previously been decided there. Clearly, Virginia had no jurisdiction over such a child.

However, Judge Janow observed that Social Services proceedings override custody litigation between parents. Therefore, on September 4, 1986, the day after he called Judge Glen and got her to have me arrested, only for me to be released two hours later, Judge Janow "awarded custody" of my daughter to the Amherst County Department of Social Services, even though that agency had filed no petition and had made no request for custody.

I have since learned that Judge Janow has done this in a number of other cases, all involving girls from states other than Virginia. The fact that Virginia has no jurisdiction is of no moment to Judge Janow. Once the child is detained and extradited to Virginia, as several have been, the jurisdictional question becomes moot.

Starting from that day, September 3, 1986, my life has been a nightmare, because for the next four years, Charles Roberts, a sick and demented man, repeatedly tried to kidnap my daughter, supported by Judge Janow, who made telephone calls in assistance and support of the Roberts and who waffled over the question of whether Mr. Roberts had legal custody or not, to fit the exigencies of the situation. Charles Roberts finally did succeed in having my daughter kidnapped in the United Arab Emirates on October 7, 1990, after unsuccessful efforts to have her kidnapped in Thailand and Sri Lanka. For the past nine years, my life has been totally devoted to the struggle to get her back, an uneven struggle because two hard core criminals who were directly involved in having my daughter kidnapped are also judges of the courts of Virginia, namely Judge Lawrence Janow and Judge Michael Gamble.

I am often asked the question of why would Charles and Shelby Roberts go to such lengths to kidnap my daughter? Why not somebody else's daughter?

The answer is religion. Charles Roberts himself says that he is a fanatic, which, he says, is a good thing.

Andrea L. Baker, a Family law lawyer practicing in Madison, Wisconsin, wrote a paper on this and several similar cases. In the course of her investigations, she interviewed Charles and Shelby Roberts over the telephone. Here are some of her observations in a paper she has submitted for publication in a law journal:

"When asked what he would do if a court were to give him Shamema but only on the condition that he would raise her a Muslim, Roberts says that under those circumstances he would not get involved.[69] Roberts says that Islam is idolatry and that Muslims kill for their god. He says that Muslims would just as soon kill a Christian as look at one. He says that just because Shamema's parents are Muslims doesn't mean that she has to be one. "Just because you're born in a garage doesn't make you a car," he says.

"Charles Roberts calls himself a fundamentalist Christian and is a self-professed follower of Jerry Falwell. While talking about the procedural history of the case, he digresses and talks a lot about the Lord and Jesus and being Saved.[70] While it is easy to sit here in my ivory tower (or even my Eagle Heights Apartment) and conclude that he is delusional,[71] in Madison Heights, Virginia, his beliefs are probably the norm. Despite the thousands of dollars in legal fees (Roberts has lost track, although several years ago it had climbed to $30,000) he has spent, he still hopes that Ismail will come to know the Lord and be Saved.

"The Roberts would not be the first choice placement for a social worker placing a newborn infant for adoption. Their religion is not conducive to creativity, free thinking, or tolerance. The fact that their son's homosexuality was cured by Jesus sends out all sorts of warning signals. The homosexual children of accepting, nurturing parents do not need to be cured or Saved by Jesus. What if Shamema is a lesbian and does not yet realize it? Clearly, they are the adults with whom Shamema bonded as an infant. But does this mean that Ismail should not have any visitation?

"Another disturbing aspect of this case was the removal of Shamema from the UAE. Procedurally, Ismail had never received his due process, or even been served with the Roberts' custody petition. At that time Shanti removed Shamema from the UAE, neither Shanti nor the Roberts had legal authority to remove Shamema from the UAE. Under the law, Shanti had kidnapped Shamema and the Roberts had acted as accessories. Despite these legalities and Ismail's repeated attempts to have the Roberts prosecuted, there has been no prosecution of the Roberts (at least not in the United States). If, for example, a fundamentalist Muslim had paid the nanny of an American Christian child whose parents were temporarily residing in Denmark to remove the child from the country, there is no doubt that the State Department would look at the case with interest. Ismail's complaints have fallen on deaf cars.

"What troubles me the most about this case is that if Ismail were a moderately religious Christian instead of the moderately religious Muslim that he is, and if the Roberts were Fundamentalist Muslims instead of the Fundamentalist Christians that they are, it would be unlikely for a Virginia court to have decided things the same way. Would any Virginia judge order a four-year-old to be enrolled in a Fundamentalist Islamic school against the wishes of, say, a Methodist or Baptist parent? The Roberts dressed Shamema up in t-shirts which depicted bibles and American flags. How would a Virginia court handle Islamic foster parents who forced their female foster children to wear rosaries and chadors? Would a Virginia court allow it? Would such a family even become licensed foster parents in the first place? Would a Virginia court prohibit any visitation for the Christian parent?"

Charles Roberts has made it plainly apparent that the only reason he is interested in my daughter is to save her for his religion. In his view, my daughter would be better off dead than to be with her biological parents, and for this reason he has been willing to hire and pay gangsters and criminals to kidnap my daughter, in spite of the possible risks of injury or even death of the child, not to mention her father.

Throughout the period that Charles Roberts was trying to have my daughter kidnapped, Michael Gamble and his law firm of Pendleton and Gamble were pursuing parallel litigation to seize control of my mother's assets on behalf of their client, Alma Coates Dawson, a close friend of Charles and Shelby Roberts, who had taken to calling herself Alma Sloan. They filed a case in the Lynchburg Circuit Court entitled Sloan v. Sloan. That case is still pending.

They faced the same problem the Roberts faced. My mother and I, plus my daughter, were not even in the United States, much less in Virginia. We had originally left New York to fly to Argentina for a chess tournament: the World Under-16 Championship, in Rio Gallegos, where I was the manager and trainer of the three Polgar sisters. (One of them is now the Woman's World Chess Champion. Another is now the top rated woman in the world and is ranked number 16 in the world against men.) However, when we were getting ready to return to America, I called Amherst, Virginia and by chance Troy Nicks, an Amherst attorney, picked up the phone. Mr. Nicks told me that I would be crazy to come back to Virginia. He outlined an elaborate plan which he said had been developed that I would be arrested and the bail would be set so high that even my mother with her $160,000 in the bank could not bail me out and that my daughter would be placed in foster care with the Roberts as foster patents and that after one year the Roberts would be allowed to adopt my daughter and I would never see my daughter again.

I actually did not believe Mr. Nicks because I did not believe that all this was possible. In fact, I did board a Pan Am flight to America with my mother and daughter. However, prior to landing for a stop-over in Brazil, I suddenly developed a fear of returning to America immediately. We decided not to reboard the plane in Brazil. Four years later, I found out how fortunate we were, because a Lynchburg Police Officer had been sent to Miami to arrest us as soon as we got off the airplane. He was bewildered by the fact that our names were on the passenger manifest and yet we did not get off the plane.

Please note that as early as October 1986, Judge Janow was sending a Lynchburg Police officer to go Miami to arrest me and my mother, even though we had done nothing illegal or wrong and there were no possible charges against us. I also much later found out that in September, 1986, a Lynchburg Court Services Unit Worker had been sent to New York by Judge Janow to pick up my daughter. Note that Judge Janow had issued his "order" "awarding custody" to the Department of Social Services at a time when he knew that the child was in New York and therefore he did not have jurisdiction. Obviously, I had never been served with the order and in fact I did not even learn of it until some time in 1987. Also, note that a Lynchburg Police Officer, not an Amherst County Police Officer, was sent. This was because the Amherst County Commonwealth Attorney, Ed Meeks, wanted no part of this case, whereas the Lynchburg Commonwealth Attorney, Bill Petty, had had a long standing feud with my father, Leroy Sloan, and wanted to take revenge by attacking our entire family.

In order to force us to return to America, Judge Janow got Judge Richard Miller to place a freeze on my mother's bank account. The obvious purpose of this freeze was to deprive my mother of the funds she needed to live overseas and to force her to return herself and my daughter to America. It also deprived her of the funds needed to retain counsel. The freeze was entered as a court order on January 2, 1987 although the freeze was in effect for nearly one month before that. No hearing has ever been held on this freeze, either then or since. The funds in that bank account, which now amount to $300,000, remain frozen to this day. We cannot get a hearing on this because, according to Fred Hodnett, Assistant Executive Secretary of the Supreme Court of Virginia, every judge in Virginia has disqualified himself from hearing this case. Thus, the illegal freeze continues, more than 12 years later.

Again, how, without any formal papers and pleadings being filed, does all this get communicated? The answer, as I said in my letter to Michael Gamble dated September 29, 1986 (a copy of which I have sent to you previously) is that all of this litigation was being coordinated by the law firm of Pendleton and Gamble. They were in contact with all the different attorneys involved in these cases, including Anda's lawyer in New York. Thus, there was a team of lawyers and judges, all working together trying to kidnap my mother and my daughter and to take control of my mother's assets, all without any basis in law.

In short, there was an old-boys network of corrupt judges and lawyers attacking my family from every angle, without basis in law and without even any proper papers and pleadings being filed.

In 1991, after both my mother and my daughter had been kidnapped and brought to America in September and October, 1990 respectively, Michael Gamble of the law firm of Pendleton and Gamble, was appointed as a judge, because Judge Goad had died. In the meantime, between the kidnappings in September and October, 1990 and Judge Gamble's appointment in March, 1991, a few hearings had been held by Judge Peatross of Albemarle County. Also, in 1989, my mother had filed her own lawsuit, naming as defendants most of the main characters involved in this case. That case had been assigned to Judge Ballou of Roanoke (phonetic spelling). Pendleton and Gamble had also filed a lawsuit against me and my mother jointly over, among other things, the ownership of my mother's house at 917 Old Trent's Ferry Road in Lynchburg.

As soon as Judge Gamble became appointed as a judge, he took over all the cases involving my family, including cases involving the same legal issues and property as was the subject of his own lawsuit of Sloan vs. Sloan.

Judge Gamble did much more than just accept these cases. He did things which no other judge has ever done and which he had no jurisdiction to do.

Regarding my daughter, one issue was that under the Uniform Child Custody Act, Virginia had no jurisdiction until the child had been in Virginia for six months. On October 22, 1990, just 13 days after my daughter arrived in Virginia after being kidnapped by Charles and Shelby Roberts, the Roberts filed a new custody petition, as "foster parents". However, the Virginia appellate courts have ruled that "foster parents" do not have standing to file for custody until they have been foster parents for one year. See Stanley v. Fairfax County Department of Social Services, 395 S.E.2d 199, 207 (1990). Even though Judge Janow had "awarded" custody to the Department of Social Services, that order was ineffective because the child was not in the Commonwealth of Virginia. It was not until several days after the Roberts successfully kidnapped my daughter in October, 1990, that Rick Groff, a case worker of the Department of Social Services, appointed them as "foster parents". Obviously, the Roberts did not disclose how they got the child. (Virginia Burks was Director of Amherst Social Services at that time. However, because of this and several other scandals, she took a leave of absence and died shortly thereafter.)

The case law is clear under Stanley v. Fairfax County Department of Social Services, 395 S.E.2d 199, 207 (1990) that there is simply no jurisdiction for the Roberts to be awarded custody of my daughter, because they had been foster parent for less than one year. Yet, Judge Janow in June, 1991, followed by Judge Gamble in September, 1991 awarded such custody.

Moreover, the Amherst County Department of Social Services never petitioned for the custody of this child and never recommend that custody be awarded to the Roberts. Rather, the agency recommended that the child be returned to the father. As a result, the Amherst County J & D Court lacked jurisdiction to award custody to the Roberts. Rader v. Montgomery County Department of Social Services, 5 Va. App. 523, 526, 365 S.E.2d 234, 236 (1988), Martin v. Pittsylvania County Department of Social Services, 3 Va. App. 15, 348 S.E.2d 13, 18 (1986), Lowe v. Grasty, 203 Va. 15, 122 S.E.2d 867 (1961).

Trying to point out these lines of cases to Judge Janow and Judge Gamble is useless. They know that what they have done is illegal. They also know that if I ever get my daughter back, they and everyone else connected with them and with the kidnapping of this child will go to prison. Obviously, under such circumstances they are not going to put themselves in jail by giving me my daughter back. They also cite sovereign immunity and judicial immunity as protections for their actions. Furthermore, the J & D Court is a "court not of record" so there are no transcripts or other records which could enable me to prove my claims. You can be sure that neither Judge Janow nor Judge Gamble will ever leave the bench voluntarily. They will be continuing to ask for a re-appointment every six years.

This was only the beginning of a series of illegal actions by Judge Gamble. On November 13, 1990, the day I first arrived in Amherst County, Virginia to try to get my daughter back, Judge Janow issued an order for my arrest, claiming that I had violated his order dated September 4, 1986. This claim was of course frivolous, as I had not even been in Virginia. More than that, this violated the statute of limitations of one year in misdemeanor cases (which this was). Both Judge Janow and Judge Gamble refused promptly to try this case, obviously realizing that the case was frivolous. A hearing was finally set for December 16, 1991, but Judge Gamble wrote a letter to my lawyer, James H. Massie III, saying that the case would not be heard on that day (which was the general appeal day). Mr. Massie told me that I need not come to court. When Judge Gamble noticed that I was not in court that day, whereas I had been present on every other day, he changed his mind and decided to try it. Without any witnesses present or any testimony, he found me guilty. Even Charles and Shelby Roberts were not present on that day, as they surely would have been if my case had been scheduled for that day. Judge Gamble found me guilty based on his personal knowledge of the case, knowledge he had gained as the lawyer suing me and my mother.

At this trial in absentia by Judge Gamble, he sentenced me to time in jail. The Virginia appellate courts have ruled that a judge may conduct a trial in absentia but may not pass sentence in absentia. Here again, the law means nothing to Judge Gamble.

More than trying and convicting me in absentia, Judge Gamble simultaneously removed James H. Massie from acting as my attorney in these cases. This was also illegal under the U.S. Supreme Court decision of Penson v. Ohio, 488 U.S. 75 (1988), because these actions clearly deprived me of my constitutional right to appeal. I tried to file an appeal on my own, without the benefit of counsel, but my appeal was dismissed.

Judge Gamble also denied me a transcript. This violated a court of appeals ruling in Casey v. Hopewell Department of Social Services, 14 Va. App. 222 (1992). The right to a transcript in such cases has since become the law of the land through the U.S. Supreme Court decision of: M.L.B. v. S.L.J., 519 US 102 (1996).

It was immediately after learning that Judge Gamble had tried, convicted and sentenced me to jail in absentia that I wrote a letter to him demanding that he disqualify himself from all further cases involving me and my family. By then, I had become aware that Judge Gamble was refusing to open and read the mail addressed from me. Therefore, I sent copies of my letter by Federal Express to about 15 other Virginia judges and officials. One of these went to Fred Hodnett, Assistant Executive Secretary of the Supreme Court of Virginia, who called Judge Gamble, which was the only way that Judge Gamble ever found out about the letter which I had mailed him.

At that time, another trial was scheduled based on the charges brought by Judge Gamble. That trial was set for January 10, 1992. However, on January 3, 1992, Bill Petty informed Judge Gamble that he was not ready for trial and asked that the date be continued. Accordingly, the trial was continued generally, with no firm date set. My new lawyer, James Hingeley, informed me and neither I nor anyone else came to court on January 10.

By July, 1992, Bill Petty still had not set a trial date. Obviously, he was having trouble and in fact he had no valid case against me because I was not remotely guilty of anything. Needless to say, Judge Gamble had not disqualified himself from hearing my cases.

At about that time, a new case was filed, this time by Cecil Taylor, who had at one time been my mother's lawyer but who had had a falling out with my mother after he had asked my mother to name him as the administrator of her estate in her will with regard to my portion of the inheritance.

In his mid-1992 lawsuit, Cecil Taylor demanded the sale of the house located at 917 Old Trent's Ferry Road in Lynchburg, the same house which was, in part, the subject of the Sloan v. Sloan case which Judge Gamble had filed. Cecil Taylor's case, by an odd coincidence, was also named Sloan v. Sloan.

In this new case, Judge Gamble allowed Frank Davidson III, the attorney for Charles and Shelby Roberts, to appear as the court appointed guardian ad litem of my mother. Frank Davidson claimed that he had been appointed by Judge Mosby Perrow. However, if true, I doubt that Judge Perrow knew that Davidson was also the attorney for Charles and Shelby Roberts and that Davidson had been one of the defendants in the 1989 suit my mother had filed.

In August, 1992, I was arrested in San Francisco and subsequently extradited to Virginia. The basis for my arrest was that a police informant who had been my cellmate during the brief time when Judge Gamble had me in jail named Rolf Beneke a/k/a Ardian Van Der Kamp had been calling me regularly offering to buy my mother's house, over which I had power of attorney, for $80,000, and also offering information about my kidnapped daughter, Shamema. I knew that Beneke was a professional con man and swindler because he had swindled Jack Robinson, the brother of my father's best friend, out of a house worth more than $20,000. As soon as the house was in Beneke's name, it had burned down under suspicious circumstances and Beneke had collected the insurance money. Almost simultaneously, Jack Robinson had died. I obviously was not going to make any financial deals with Rolf Beneke, but he was offering me information as to the whereabouts of my kidnapped daughter whom he claimed to have seen several times. This made me interested in talking to him. This turned out to be a police setup. All these conversations were being tape recorded by the Lynchburg Police. This was also illegal and unconstitutional under Maine v. Moulton, 474 U.S. 159 (1985), because Beneke was asking me about events for which I had been indicted and my tape recorded statements were later used against me at trial. This was an obvious violation of the Miranda rule, as Beneke, who was under indictment for a wide variety of crimes, mostly swindles, had become a police informant. The Lynchburg police and Commonwealth Attorney were willing to make a deal with him (a small fish) to get me (the big fish). It was also a cruel hoax that they had Beneke tell me that he had seen my kidnapped daughter and knew where she was. Beneke later testified that he had never seen my daughter.

After being extradited to Virginia, I was immediately brought before Judge Perrow, who told me of his intention to assign the case to Judge Gamble. I immediately protested, saying that I would accept any other judge, including even Judge Miller (who had illegally frozen my mother's bank account) but I would never agree to Judge Gamble.

Judge Perrow said that he could not hear my case because his former law firm, Caskie and Frost, was involved in one of the suits against my mother. Similarly, every other Lynchburg judge had some involvement with either my father, who was a lawyer and auditor for the IRS, or my mother, who was Director of Central Virginia Community Mental Health Services, so they were all disqualifying themselves. That left Judge Gamble as the only Lynchburg area judge willing to hear my cases.

I still refused to agree to Judge Gamble. Subsequently, Judge Gamble along with all the Lynchburg area judges signed an order recusing themselves from this case.

Nevertheless, on the next court date, Judge Gamble appeared as the judge, even though he had just signed an order disqualifying himself as a judge. Brought from my jail cell, where Judge Gamble had ordered me held without bond, I protested vehemently. Nevertheless, Judge Gamble continued to act on this case. On this ocasion, Judge Gamble removed James Hingeley as my attorney. Hingeley had asked to be removed on the grounds that there was obviously a personal dispute going on between myself and Judge Gamble which made it difficult for Hingeley to act in this case. The obvious solution to this problem was for Judge Gamble to disqualify himself, which Judge Gamble refused to do.

On the next court date, Judge Gamble appeared again. This time, Bill Petty was demanding the removal of James Massie, who had become my attorney after Hingeley had been removed, on the grounds that Massie had years before briefly been the attorney for Rolf Beneke, who was the Commonwealth's star witness against me. It was then that I learned that Beneke had been a police informant when he had called me repeatedly in my offices in New York and San Francisco. I have researched the law on this and to deprive me of my attorney just because he once years ago had been the attorney for a witness against me in an unrelated matter is doubtful. Nevertheless, Judge Gamble violated his own recusal order and removed Massie and appointed David Bice, who turned out to be the weakest attorney possible.

I appealed to the Virginia Court of Appeals from both the order removing Hingeley and the order removing Massie. My appeals were dismissed. I also filed a mandamus petition against Judge Gamble which was also dismissed by the Virginia Supreme Court.

The reason Judge Gamble had given for rescuing himself from my criminal cases was not because of his direct involvement in lawsuits against me and my family, but because Bill Petty had said that he personally would take the stand as a witness against me. Although a letter came from the Virginia Supreme Court indicating that Petty would have to disqualify himself as well, Petty refused to do so, and continued as prosecutor on the case where he was also a witness. Petty said that he had no choice but to do this, because every other prosecutor in the Lynchburg area was "too busy" to handle this case.

Obviously, the real reason was that the case against me was frivolous. I had not committed any crime. Rather, I was being charged with crimes of which Petty and Gamble themselves were guilty, namely: conspiring to kidnap my daughter.

The case for the sale of my mother's house was taken over by Judge Gamble as well. Thus, Judge Gamble had three new cases before him, the case for the sale of my mother's house, which was filed in mid-1992, the case of "solicitation to commit a felony" based on Beneke's calls to me, and a fail to appear charge based on the court date which had been canceled in advance by Judge Gamble. I was clearly and demonstrably not guilty in all three cases. Judge Gamble and Bill Petty were trying to have me convicted and sentenced to 15 years in prison for the crimes which they themselves had committed. Had they been successful, I would not be getting out of prison until the year 2004 at the earliest and would not be writing you this letter today.

The trial was conducted by Judge Lumpkin, perhaps the most notorious hanging judge in Virginia, who bragged during the trial that he had been the judge who sentenced the five Bryerly brothers to death in the electric chair. Fortunately, in spite of a monstrously unfair trial, during which the jury was given written lengthy decisions by Judge Janow and Judge Gamble to read in the jury room (this was obviously illegal) and was allowed to hear hearsay statements allegedly made by my daughter, even though my daughter was not produced at trial nor was my attorney allowed to interview her (it is possible that the jury believed that she was dead), the jury found me not guilty on one of the charges and only gave me five years on the others. I also had to serve the jail sentence ordered by Judge Gamble in his December, 1991 trial in absentia.

The case for the sale of my mother's house was still pending. On several occasions during 1993 and 1994 I was brought from my prison cell to appear in those cases, since I had power of attorney over the house. On each occasion, I demanded that Judge Gamble disqualify himself from this case and also that he appoint counsel to represent me, as he was obviously required to do under § 53.1-223 of the Code of Virginia and other provisions of that code. Judge Gamble refused to appoint counsel for me for the obvious reason that the sale of the house was totally illegal and without basis under Virginia law, as any attorney would have quickly pointed out.

The house was finally sold for $75,000, even though the market value was clearly at least $150,000. The buyer then put the house on the market for a list price of $167,000. (Obviously, the house is worth much more today.) Judge Gamble ordered that $18,000 be paid in legal fees to Cecil Taylor, which is far above the statutory allowance for legal fees, and that $10,000 be paid to Moody Moving and Storage for removing the contents of my mother's house, which, Judge Gamble ordered, were to be taken to the trash dump. The balance of $47,000 was to be kept by Cecil Taylor until the death of my mother. Cecil Taylor has since died. My mother is still alive. Nobody seems to know what happened to the $47,000.

In order to try to stop Judge Gamble from doing this, I removed the case to federal court. Federal District Judge Jackson Kiser signed the removal order. When brought to Lynchburg Circuit Court, I told Judge Gamble that he had no jurisdiction to order the sale of my mother's house, because the case was no longer in his court, and the file had been transferred to the federal courthouse. Judge Gamble, who obviously pays no attention to legal niceties, ignored Judge Jackson's order and ordered the house sold anyway. I appealed from that, but my appeals were dismissed. Altogether about 14 of my appeals from orders of Judge Gamble have been dismissed, usually because I have been in jail and it had been impossible for me to retain counsel or to obtain a transcript.

Thus, Judge Gamble has been the judge on a multitude of cases involving me, even though he was also the opposing counsel. These include:

1. The case for the custody of my daughter, Shamema.

2. The case brought on November 13, 1990 by Judge Janow for contempt.

3. The criminal case for "attempted abduction" of my own daughter.

4. The criminal case for failure to appear at trial (that was the trial scheduled for January 10, 1992 but continued in advance by Judge Gamble).

5. The criminal case for solicitation to commit a felony, based on the calls from Rolf Beneke to me.

6. The case for the sale of my mother's house, Sloan v. Sloan, filed in Lynchburg Circuit Court in 1992.

Please note that cases 4, 5, and 6 above arose after my December, 1991 letter demanding that Judge Gamble remove himself from all cases involving me. Items 4, 5 and 6 were all cases which started in mid-1992.

Also, note that the Sloan vs. Sloan case which was filed by Judge Gamble's law firm in Lynchburg Circuit Court in 1987 has been inactive throughout this period, but is still pending. It is possible that Judge Gamble is just waiting for my mother to die, at which time he will file a claim against her estate and her frozen bank accounts. It is clear that Judge Gamble will try to prevent me and my seven children from receiving any money through inheritance from my mother.

Had Judge Gamble never been a judge, I would still have my daughter, because as a father, and with a mother who has been absent and in Pakistan for the past 17 years, I do not need a court order. I am the natural custodian of my daughter. Similarly, without Judge Gamble's obviously illegal orders, my mother would still have her house, in which I was living up until the time of my arrest. There is little doubt that my mother's bank account containing $300,000 in frozen funds would also be recovered, since the reason for freezing the funds in the first instance was to force me and my mother to hand over our daughter to Charles and Shelby Roberts.

Finally, I would never have gone to prison either, because all of the charges of which I was convicted were for alleged violations of orders of Judges Gamble and Janow, orders which were issued without jurisdiction. I was found not guilty by the jury on the only charge that did not directly involve Judge Gamble or Judge Janow.

It should be obvious that many crimes have been committed and that I, my mother and my daughter are all victims of these crimes. As long as Judge Gamble sits as the only judge in Amherst County, Virginia, a county in which we have never lived (although we did live in Bedford County and in Lynchburg) there is absolutely no possibility that Charles and Shelby Roberts will be arrested and prosecuted for the kidnapping of my daughter, a crime of which they are manifestly guilty, nor is there any chance for the recovery of the house or the frozen funds, or of even of a hearing in court on any of these matters.

Judge Gamble knows that if he is not reappointed as a Judge on February 1, 1999, he will go to prison. I urge that Judge Gamble not be reappointed and that he be prosecuted to the full extent of the law.

I enclose documents which prove beyond reasonable doubt that Charles and Shelby Roberts are guilty of kidnapping my daughter, including the flight reservations they made and an airline ticket they purchased on October 7, 1990 to have my daughter brought from Abu Dhabi to America and to their home in Amherst County, Virginia.

Thank you for your time in reading this lengthy letter.

Very Truly Yours,

Sam Sloan
---
What do you think? Express your opinion in the guestbook!
---
Here are links:

My Home Page

Contact address - please send e-mail to the following address: Sloan@ishipress.com