Letter from Ohio Department of Commerce Division of Securities
Ohio Department of Commerce
Division of Securities
77 South High Street - 22nd Floor
Columbus, OH 43215
(614) 644-7381 FAX (614) 466-3316
www.securities.state.oh.us

Bob Taft
Governor

Gary C. Suhadolnik
Director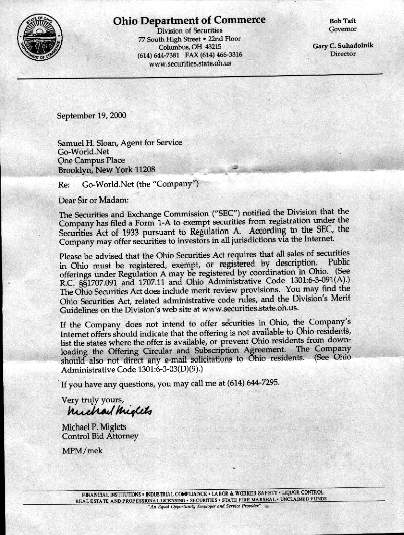 Letter from Ohio Department of Commerce Division of Securities


September 19, 2000

Samuel H. Sloan, Agent for Service
Go-World.Net
One Campus Place
Brooklyn, New York 11208

Re: Go-World.Net (the "Company")

Dear Sir or Madam:

The Securities and Exchange Commission ("SEC") notified the Division that the Company has filed a Form 1-A to exempt securities from registration under the Securities Act of 1933 pursuant to Regulation A. According to the SEC, the Company may offer securities to investors in all jurisdiction via the Internet.

Please be advised that the Ohio Securities Act requires that all sales of securities in Ohio must be registered, exempt, or registered by description. Public offerings under Regulation A may be registered by coordination in Ohio. (See R.C. §§ 1707.091 and 1707.11 and Ohio Administrative Code 1301:6-3-091(A).) The Ohio Securities Act does include merit review provisions. You may find the Ohio Securities Act, related administrative code rules, and the Division's Merit Guidelines on the Division's web site at www.securities.state.oh.us.

If the Company does not intend to offer securities in Ohio, the Company's Internet offers should indicate that the offering is not available to Ohio residents, list the states where the offer is available, or prevent Ohio residents from down- loading the Offering Circular and Subscription Agreement. The Company should also not direct any e-mail solicitations to Ohio residents. (See Ohio Administrative Code 1301:6-3-03(D)(9).)

If you have any questions, you may call me at (614) 644-7295.

Very truly yours,


Michael P. Miglets
Control Bid Attorney
MPM/mek

------------------------------------------------------------------------
FINANCIAL INSTITUTIONS - INDUSTRIAL COMPLIANCE - LABOR & WORKER SAFETY - LIQUOR CONTROL
REAL ESTATE AND PROFESSIONAL LICENSING - SECURITIES - STATE FIRE MARSHALL - UNCLAIMED FUNDS
------------------------------------------------------------------------
"An Equal Opportunity Employer and Service Provider"

---
Here are links:

My Home Page

Contact address - please send e-mail to the following address: Sloan@ishipress.com