The Northern Most Point of Thailand
Shamema Honzagool Sloan stands before a sign in English and Thai which says "The Northern Most Point of Thailand - Maesai River".

To the left is a bridge to Burma. It is forbidden for foreigners to cross that bridge.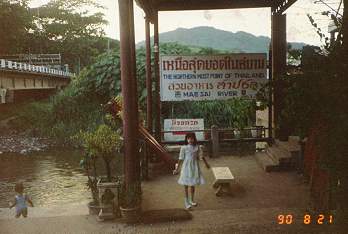 Shamema Honzagool Sloan at the Northern Most Point of Thailand


Michael Sloan, who had just turned two years old, stands at the lower left looking into the river.

Note the date on the photograph, which is 8-21-1990. The location is near the infamous "Golden Triangle", where Burma, Thailand and Laos meet. The area is controlled by drug warlords. Thai and Burmese police have no influence there.

We selected this as a hide out after my mother was kidnapped on September 3, 1990. Realizing that Boonchoo had been hired by Charles and Shelby Roberts to kidnap my three children, Shamema, Michael and Jessica, I took them to Maesai, left them with some Burmese ladies, when back to Bangkok, where I found Shanti Vithanage, Jessica's mother, who had been flown in by the Roberts to help them kidnap my children.

Shanti escaped from Boonchoo and his men, joined me and I took her to Maesai, recovered the three children, and managed to smuggle them across the border into Malaysia.

However, it was all for naught. Charles and Shelby Roberts succeeded in having the three children kidnapped in Fujairah, United Arab Emirates on October 7, 1990. I was able to recover Michael and Jessica, but Shamema has not been recovered to this day.
---
Here are links:

My Home Page

Contact address - please send e-mail to the following address: Sloan@ishipress.com