Helen Marjorie Sloan biography
My mother, Dr. Helen Marjorie Sloan, was listed in the First (1958-1959) and in the Second Edition (1961-1962) of "Who's Who of American Women", but not in the Third Edition (1964-1965). Here is her biography as published in the First and Second Editions.

SLOAN, Helen Marjorie, physician; b. Spaulding, Iowa., March 17, 1910; d. Wesley and Mary (Graham) Jacobson; Asso. Edn., Cottey Jr. College Women, Nevada, Missouri, 1930; B.A., U. Iowa., 1932, M.D., 1936; m. LeRoy B. Sloan, June 27, 1937 (div. Aug. 1956); children - Samuel Howard, Creighton Wesley. Intern, Norwegian-American. Hosp., Chicago., 1936-37; resident pediatrics Children's Memorial Hospital, Chicago, 1938, psychiatry Psychopathic Hospital, University of Iowa., 1939-40, 41-42; Commonwealth Fund fellow child psychiatry Mental Hygiene Clinic, Louisville 1942-43; psychiatrist. Memorial Guidance Clinic, Richmond, Va., 1943-52; psychiatrist, dir. Lynchburg Guidance Clinic, 1952-, Tidewater Guidance Clinic, Williamsburg, Va., 1952-57. Fellow American Orthopsychiatric Assn.; member. American Psychiatric Assn., American. Academy of Child Psychiatrists, Phi Theta Kappa, P.E.O. Episcopalian. Home: Trent's Ferry Rd. Office: 512 Clay St., Lynchburg, Va.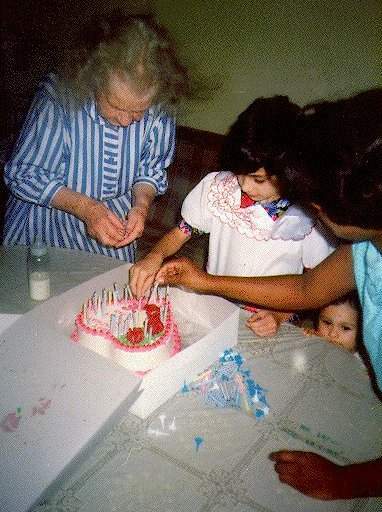 Helen Marjorie Sloan at age 80. Next to her are her granddaughters, Shamema and Jessica Sloan, and Shanti Vithanage.
---
What do you think? Express your opinion in the guestbook!
---
---
Here are links:

My Home Page

Contact address - please send e-mail to the following address: Sloan@ishipress.com