Graham Family - My Family History
11655 Elizabeth Mary Graham

Mary was born 13 Jun 1879 in Madison County, Iowa. She married Peter Wesley Jacobson 2 June 1909 in Spaulding, Iowa. Peter was born 16 April 1877 and died in Creston, Iowa. 30 Aug 1963. Their residences were Spaulding, Iowa; Towner, Colorado; and near Afton, in Union County, Iowa.

They had Helen Marjorie, Victor Graham, Wesley Cassel, Jeanette Eleanor, Alden Dale, and Newell Edward. Mary died in Creston on 23 September 1956; burial was near Spaulding, Iowa.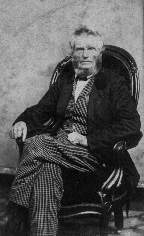 William Graham (1799-1881)
My great great grandfather (I believe) William Graham


11656 Jane Grace Graham

Jennie was born 9 Feb 1883. She married Claude O. Bishop 22 June 1904 in Spaulding, Iowa. Claude, born 6 Oct 1881, was a telegraph operator and depot agent in Orient, Iowa. Their children were Myrle Graham, Straud Allison, Charlotte Mae, and Elizabeth Mary. Jennie died in Indianola, Iowa. on 11 March 1959. Claude died 2 November 1958.

11657 Walter Nelson Graham

Walter was born near Macksburg in Madison Co. 13 Oct 1885. He attended Colorado College in Colorado Springs and was a member of Kappa Sigma fraternity. He was quite the athlete, and pitched left-handed for the college team. He was also very interested in golf, and he helped to develop two golf courses. He started out as a farmer, then was a banker in Iowa. from 1921 to 1939, and in Oil City, Louisiana until 1963. Walter married, first, Olive Mae Stream on 22 Feb 1911. They had a daughter, Ruth Josephine. Olive died 20 May 1962 and was buried in Spaulding, Iowa. In Mar 1963 he married Adele Smith. Walter died at Vivian, Louisiana 6 May 1979.

11658 Samuel Roscoe Graham

Rock, or Roscoe, was born 19 July 1888 in Madison County. In Chariton, Iowa., on 16 June 1908, he married Addie Reed. He worked for the Des Moines Register and Tribune for over fifty years. He was a life member of the Crusade Masonic Lodge in Greenfield, Iowa., and the Eastern Star. Roscoe and Addie retired to Long Beach, Calif. where he died 2 February 1968. Addie, born 31 October 1887, died 3 September 1972. They came from large families but had no children of their own.

11671 Norma Minta McCorkle

Norma was born 5 Dec 1881 in Madison County, Iowa. She married Frank L. Eyerly 28 October 1902. Frank and Norma moved from Madison County, Iowa. to near Ridgeway, Mo. and farmed on the north side of town. They
---
graduated with a degree in electrical engineering in 1927 from the University of Washington. He continued his studies and was elected to Tau Beta Pi, an honorary engineering society.

The Graham Genealogy continues with details of his outstanding career. In 1932 he left Fairbanks-Morse and took on a new career with Hartford Steam Boiler Inspection and Insurance Co. in Berkeley, California. In 1940 he was transferred to Connecticut, and in 1944 he switched to The Travelers Indemnity Co. He traveled extensively, and published many articles on boiler and machinery insurance. Lyle entered into semi-retirement in 1967 and traveled extensively while serving as a litigation consultant and special witness.

Lyle was active in church work wherever he lived, including the Presbyterian Church in Berkeley, Calif. Since 1984 he and his wife, Mildred, lived in Boca Raton, Fla. Lyle died there 26 May 1995.

Mildred was a graduate of Washington Teacher's College, later known as the University of Eastern Washington. She taught school before she was married and remained active in church work. Their children are Ruth Evelyn and Gordon Lyle.

116551 Helen Marjorie Jacobson

Helen was born 17 March 1910 in Spaulding, Iowa. She married LeRoy Bayfield Sloan and they had Samuel Howard and Creighton Wesley. She was later divorced from Roy. Helen was living in 1998.

116552 Graham Victor Jacobson

Victor was born 16 June 1911 in Spaulding, Iowa., and died 31 May 1997. He married 3 May 1943, in Iowa City, Ella Margaret Peters. Their child was Edward Graham.

116553 Wesley Cassel Jacobson

Wesley was born 21 May 1913 in Towner, Colorado. He married, first, in Washington, DC, Marion Margaret Mahoney who was born 20 May 1919 and died 13 May 1976 near Silver Spring, Maryland. Their children were Carol Elizabeth and Karen Jeanette. Secondly, he married Theresa Lee who was born 14 Nov 1908. Wesley was living in Rockville, Maryland, in 1998.

116554 Jeannette Eleanor Jacobson

Jeanette was born 24 Oct 1914 in Afton, Iowa. and died 19 January 1989 in Long Beach, California. Burial was in Prairie Lawn Cemetery, near Spaulding, Iowa. She was unmarried.

116555 Alden Dale Jacobson

Alden was born 4 Jun 1916 in Afton, Iowa. He married, first, Elizabeth Berger and they had Robert Dale, Richard Wesley, William Allison, and Philip Alden. Secondly, he married Lillian Lorraine Suttle Dula 24 March 1968. Lillian was born 20 May 1921. Alden was living in Florida. in 1998.

116556 Newell Edward Jacobson

Newell was born 19 Jun 1905 in Orient, Iowa. and died 25 Apr 1989 in Homestead, Fla. Burial was near Trinity, NC.

116561 Myrle Graham Bishop

Myrle was born 19 Jun 1905 in Orient, Iowa., and died in Chicago 10 Nov 1964. His first marriage was to Jeannette Ritter on 11 May 1929 in Chicago, Illinois. Secondly, Myrle married on 16 Dec 1961 Inger Olson who was born 27 Jun 1907. Myrle and Jeannette had Joanna Myrtle and Barbara Jean.

116562 Straude Allison Bishop

Known as Al , he was born 30 Nov 1906 in Orient, Iowa., and died 9 Feb 1972 in Milwaukee, Wisconsin. Burial was in Holy Cross Cemetery. He was married to Betty E. Calkins, and they had John Allison, Mary Jane, Thomas W., and Kenneth C.

116563 Charlotte Mae Bishop

Charlotte was born 19 July 1909 in Orient, Iowa. and died in Sep 1974 in Indianola, Iowa. She married 26 May 1935 Floyd Franklin Augustine who was born 22 Aug 1907 and died in Apr 1975 in Indianola. Their children were Claudette Jane, Jim O., and Jack G.

116564 Elizabeth May Bishop

Elizabeth was born 17 Feb 1912 in Orient, Iowa. and died 2 Feb 1998. She married 1 Oct 1934, in Chicago, Ill., Matthew Elmer Morris. Their children were Richard Alan and Peter Jon. Elizabeth was a homemaker in Indianola, Iowa. and died of cancer in Des Moines. She was buried in Orient.

116571 Ruth Josephine Graham

Ruth was born 5 Oct 1916 in Creston, Iowa. She married in Oil City, Louisiana. on 25 May 1942 Jerry Keithley Butler Jr. who was born 27 Dec 1915 in Mansfield, Louisiana. Their children were Jerry Keithley, Robert Graham, Ellen Ruth, and Lawrence Walter.

116711 Raymond Everly

Raymond was born about 1903 in Madison County, Iowa. He was married and had a son, Frank.
---
The above data was provided by Creighton Wesley Sloan, grandson of Elizabeth Mary Graham (1879-1956), from an unknown source.
---
Here are links:

My Home Page

Contact address - please send e-mail to the following address: Sloan@ishipress.com