Laura Linney, Star of "The Truman Show"
In "The Truman Show," Laura Linney plays Jim Carrey's wife, an actress pretending to be a real person. In life, Ms. Linney is an actress struggling to project a movie star, now that "The Truman Show" has brought her the widest attention yet during a career built on theater and television.

Preparing to attend the Venice and Deauville Film Festivals, where "The Truman Show" made its Italian and French premieres recently, Ms. Linney faced a real-life star quandary: What, oh what, to wear?

Fortunately, for every Hollywood actress in distress there is a designer eager to come to the rescue, happy to link the name of a design house to that of a celebrity. Susan Sarandon has Dolce & Gabbana. Nicole Kidman has John Galliano. Ms. Linney has Donald Deal.

"I'm a little shy when it comes to fashion," said Laura Linney, whose new style mentor is Donald Deal.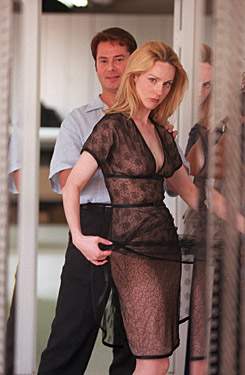 Laura Linney with her designer Donald Deal
---

Deal, a smallish evening-wear designer popular with Vanessa Williams, Toni Braxton, Lisa Kudrow, Kathie Lee Gifford and Barbara Walters, caters to stars who care more about looking quietly terrific than being current with the trends. That's perfect for Ms. Linney, who is inching toward high fashion with baby steps. "I went to Cannes with 'Absolute Power' when it closed the festival, and that was overwhelming," she said, recalling the frenzy of flashbulbs scrutinizing her -- and her outfit -- for posterity.

Ms. Linney, 32, was born and reared on Manhattan's Upper East Side, the daughter of a nurse and Romulus Linney, the playwright. She majored in theater history at Brown University, learned her craft at Juilliard and honed it on Broadway, most recently in "Honour."
---
Here are links:

Contact address - please send e-mail to the following address: Sloan@ishipress.com