BREAKING NEWS STORY: David Levy accuses Raymond Keene of misappropriating 50,000 British pounds for Kasparov World Chess Championship match in London.
International Chess Master David Levy says that his partner, Grandmaster Raymond Keene, misappropriated 50,000 pounds from the Mind Sports Olympiad bank account in order to set up a rival organization called the Brain Games Network PLC, which is to sponsor a match for the World Chess Championship between Kasparov and an opponent, either Anand or Kramnik, for a purse of $2 million.

A press conference to announce the match is being held this morning in London.

Raymond Keene is the chess correspondent for three British papers, "The Times", "The Sunday Times" and "The Spectator". Keene has written more chess books than any living human.

| | |
| --- | --- |
| Raymond Keene | David Levy |
| Raymond Keene | David Levy |

David Levy is a famous author specializing in computer chess. Levy was married to Keene's sister and has two children, who are Keene's neice and nephew. Levy and Keene have collaborated in chess ventures for the past 30 years, including two world chess championships and two world computer checkers championships.

Details will become available on my web site at http://www.samsloan.com/levykeen.htm as they emerge.

More to follow.

Sam Sloan
---
FOLLOWUP: World Championship Company started with "borrowed" money.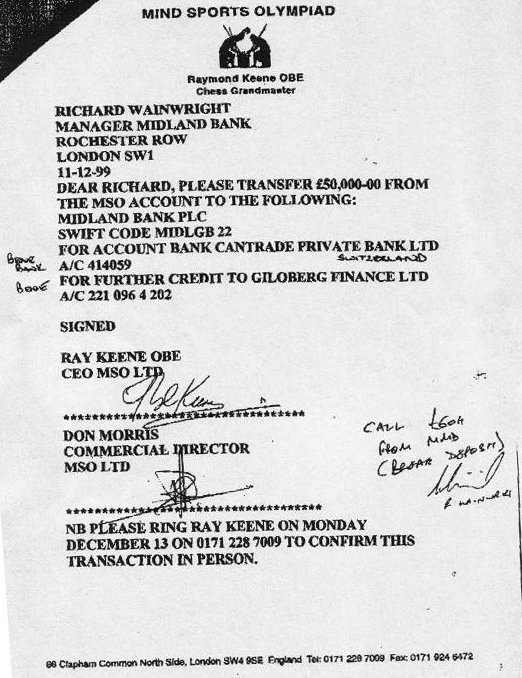 Instructions to Remove 50,000 pounds from the account
Bank statement showing funds going out
Bank statement showing funds coming in
---
To contact David Levy, please send e-mail to the following address:
davidlevylondon@yahoo.com
---
Here are links:

Sam Sloan's Chess Page


Contact address - please send e-mail to the following address: Sloan@ishipress.com