Kevin Chittum and Tamara Whitney Rogers, who were killed in a car wreck on July 4, were parents of one of the switched Virginia babies.
The crash was the worst in the nation this year on the fourth of July, claiming seven lives in all. Chittum, a carpenter and a contractor, had set off early that afternoon for a county fair with five passengers -- Ms. Rogers, his 13-year-old sister, his 11-year-old niece from Charlottesville, and two brothers, 10 and 13, from Lexington who had known his niece.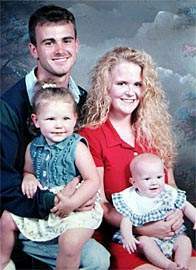 Kevin Chittum and Tamara Whitney Rogers, who were killed in a car wreck on July 4. Ms. Johnson's child may be Rebecca, right, sitting on the knee of the man she knew as her father.
---

The accident occurred in "a very bad place" near Roanoke, on Interstate 81, said the Botetourt County Sheriff, Reed Kelly. It was pouring rain, he said, and the car drove over a hump in the road that caused it to hydroplane and cross the median, where it hit a tractor trailer. Everyone in Chittum's car and the driver of the truck, Jerry Douglas Gregory, 59, were killed.

I know exactly where this occurred. It is at a location where there is a shortcut I used to take in driving from Lynchburg to Staunton. There is an exit from I-81. There is a truck stop there. I nearly had an accident once there myself, and I once got a ticket there for exiting wrongly when I had just come off of I-81. I never tried to drive there in the rain.

On July 3, the day before they died, tests had been done in New Jersey which determined that they were not the biological parents of the three year old girl Kevin Chittum is holding. However, they had not yet been identified as the parents of the switched baby and could not possibly have known of this when they died.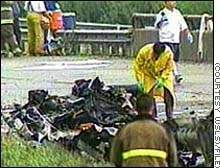 Photo of the Tragic Car Crash which killed Kevin Chittum, Tamara Whitney Rogers and five others.
---
---
Here are links:

Contact address - please send e-mail to the following address: Sloan@ishipress.com