Antz Web Sites
The popular Kids movie "Antz" is due out on October 2. However, unlike almost every other popular new movie, Antz does not have its own home page. DreamWorks, the producer of Antz, says that they do not make any money off of a web site, so why bother!

Therefore, many web masters, in order to boost traffic to their own sites, have put up their own Antz site.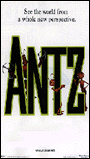 In order to boost the lagging traffic to my own web site (I only got 52,000 hits yesterday), I have decided to make this page of links to other Antz links web sites.
---
Here are links:

Return to my Home Page

Contact address - please send e-mail to the following address: Sloan@ishipress.com