Outrage: Here is a man who had sex with a woman and still they are allowing him to announce sporting events
NEW YORK -- Marv Albert's career, which virtually ended after a sensational sexual assault trial last year, was revived Wednesday when Madison Square Garden rehired him to call New York Knicks games on radio and host the nightly "MSG Sportsdesk" television program.

Nearly 10 months ago, Albert resigned from the Garden -- where he had called Knicks games on television on the MSG Network -- after pleading guilty to a misdemeanor for biting a former lover, Vanessa Perhach. NBC Sports fired him.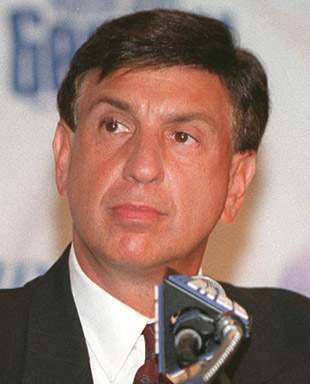 Marv Albert: Why should This Man be allowed to Broadcast Sports?
---

Dave Checketts, president of the Garden, said Albert was "immensely loyal to this place" even after he attained a national following on NBC. "It's because of that we are standing here and returning the favor. Loyalty means a lot here."

Asked if the notoriety surrounding his case would help the ratings for "Sportsdesk", Albert deferred the question to Checketts, who said, "I won't deny we made a business decision about helping ratings." The program is being overhauled with a new set to coincide with Albert's first telecast on Sept. 14.
---
Here are links:

Contact address - please send e-mail to the following address: Sloan@ishipress.com