Sam's Plan to Divide Afghanistan has been approved
The Frontier Post in Peshawar Pakistan reports today that Russia and the USA have agreed to implement Sam's Plan to Divide Afghanistan.

The article is at http://frontierpost.com.pk/main.asp?id=3&date1=11/1/2001

While my name is not mentioned, I can easily prove that I originated this idea, because I first proposed this on 10/22/2001, long before anybody else thought of it. A virtual carbon copy of my plan was published in the USA today on October 29, 2001. The author had obviously read it on my web site. http://www.samsloan.com/solution.htm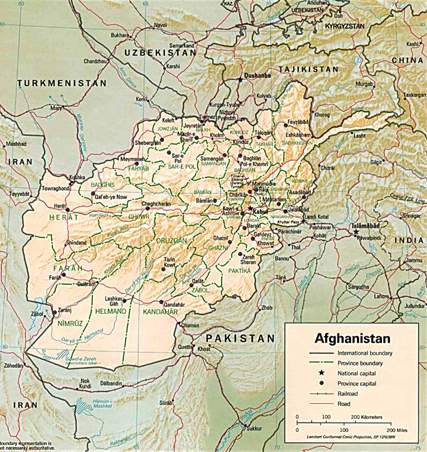 Map of Afghanistan


My thanks to "CuChullaine O'Reilly" for pointing this out.

I am well known in Pakistan. In 1983, my name was a virtual household word in that country, much as John Dillinger is a household word in America.

Pakistan may pretend to object, but they will be happy to get a piece of Afghanistan for themselves, which will also enable them to send the four million Afghan refugees home.

Here is the text of the article in the Frontier Post.
---
Plan to divide Afghanistan

Fakhar-ur-Rehman
Updated on 11/1/2001 10:36:06 AM

ISLAMABAD: Washington and Moscow has reached an understanding to divide Afghanistan along ethnic lines, The Frontier Post learnt on Wednesday.

The move has been prompted by the US failure to make any tangible dent in the Taliban power, well placed sources told this scribe.

The understanding reached between US and Russia on the issue is three-pronged.

Firstly, both countries have agreed to launch a joint ground attack along with the Northern Alliance forces against the Taliban positions and eliminate them completely.

Russian forces would join the operation from the north and the US forces from the South of Afghanistan.

These ground operations are scheduled for March next year, the sources said.

In the second phase Russia would hold the northern part and the Americans the southern part of Afghanistan.

The Pentagon plans to establish its military bases in Herat and Russian in the North of the country.

In the third phase the political dispensation would be based on ethnic lines and a broad based government dominated by Tajik and Uzbek elements will be installed.

The sources have said that such a dispensation would be unacceptable to Pakistan, Iran and other important regional countries.

Pakistan has always advocated territorial integrity of Afghanistan and establishment of a broad based set up through indigenous process.

---
Here are links:
Newspapers in Pakistan

Other Links
My Home Page
Contact address - please send e-mail to the following address:
Sloan@ishipress.com