Tomoko Ogawa, Former holder of many Women's Professional Go Titles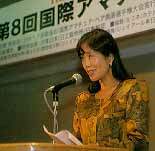 Tomoko Ogawa
---

Born on April 1, 1951 in Fukui City.

Became 1-dan in 1970 and reached 6-dan in 1975.

Has held numerous female titles: Woman's Honinbo (1986) and Woman's Kakusei (1987). One of the top ranked female players. Regularly challenges for the top female titles. Although getting up in age, she still retains her youthful beauty and must be rated the second most beautiful go player in Japan.
---
Here are links:
If you want to learn more about GO, visit the following home pages. Best information source and computer GO link-ups:


Contact address - please send e-mail to the following address: Sloan@ishipress.com