Kirsan Ilyumzhinov, my dear friend, announces that he is running for Presidency of Russia
The chess world was shocked yesterday when the announcement came that our great leader and president and my personal dear friend, Kirsan Ilyumzhinov, announced that he is running as a candidate for President of Russia.

You may ask: Why do I suddenly call Kirsan "My Dear Friend" when I had so many bad things to say about him in the past?

Kirsan Iljumzhinov
---

I have always been one who runs to the aid of any person who has been wrongfully accused. Therefore, when rumors started to fly last week that Kirsan Ilyumzhinov had personally ordered the murder of journalist Miss Larisa Yudina, I realized that Kirsan was my dear friend after all.

Perhaps this has something to do with the fact that on June 10, Larisa Yudina, a journalist and Yabloko member, was found murdered two days earlier in the Kalmykian capital, Elista. She had suffered multiple knife wounds and a fractured skull.

Miss Yudina was the editor of the only opposition newspaper in Kalmykia. In editorials published in her newspaper, she had been accusing my dear friend Kirsan of corruption.

Her paper was Sovietskaya Kalmykia, which Ilyumzhinov had banned and which had to be driven in from a neighboring region in the trunk of Yudina's car.

It is, of course, outrageous that anybody would accuse my dear friend Kirsan of corruption.

Sergei Vaskin, one of three suspects so far detained, worked for Kirsan Ilyumzhinov, the eternally smiling young president of the Kalmykia region. Yudina had regularly accused him of corruption. Yudina was the editor of the only opposition newspaper in Kalmykia, a poor region on the north-west shores of the Caspian Sea ruled as a personal fief by Mr. Ilyumzhinov, who owns six Rolls Royces.

What will we poor chess players do if we do not have Kirsan to lead us any more? After all, it was Kirsan who decreed that the "World Chess Championship" would be decided by a two game blitz match, which was announced and then played only a few hours later, so quickly that the match was over even before the world knew that there was going to be a match.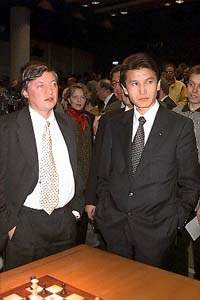 Anatoly Karpov with his friend Kirsan Iljumzhinov
Karpov was waiting to be awarded the title of "World Chess Champion" by Iljumzhinov just after Karpov had defeated Anand in a two game blitz match.
---

It was Kirsan who gave us a "World Chess Champion" so weak that he even lost a match 5-3 last week to a little 21-year-old girl. (Does this mean that Judith Polgar is now World Chess Champion? After all, she won an 8 game match against Karpov, whereas Karpov got the "world title" by winning a two game blitz match against Anand.)

It was Kirsan who got himself elected President of FIDE, in Armenia in 1996, by bribing all the delegates with wristwatches and other presents manufactured by Ignatius Leong of Singapore.

It was Kirsan who reportedly threatened the life of Leong when Leong revealed this at the meeting in Armenia, as a result of which Leong had to seek the protection of the American Embassy in Yerevan.

I really hope that my friend Kirsan will be elected President of Russia. Perhaps Kirsan will remember his dear friend Sam, and I will be sitting up in the Kremlin next year issuing orders to the serfs (especially the girl serfs). (They don't have a Lewinsky rule in Russia yet.)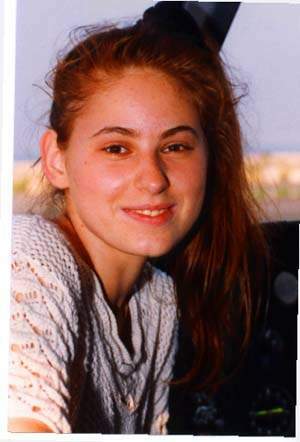 Uncrowned World Chess Champion?
21-year-old (going on 22) Judit Polgar who defeated Anatoly Karpov in a chess match 5-3 last week.
---

Stranger things have happened.

Kirsan might even let us start playing chess normally again.

Sam Sloan
---
UPDATE Kirsan leads with 46.7 % in election in Kalmykia.

Big News: Russian newspaper predicts Kirsan Ilyumzhinov will be defeated for re-election in Kalmykia
---
Sam Sloan's Chess Page
Contact address - please send e-mail to the following address:
Sloan@ishipress.com