Jovanovic Convicted: Faces Minimum of 15 Years to Life
FINAL UPDATE: After a five-year legal struggle, the Cybersex Torture Case has been dropped.
---
FANTASTIC NEWS: December 21, 1999: The Jovanovic conviction in the "Cybersex Torture Case" has been reversed. Check your morning newspapers, as this news will be in every newspaper in New York, possibly in every newspaper in the USA.

The grounds for reversal were exactly the grounds which have been cited on this web site, that evidence was withheld from the jury vital to the defense.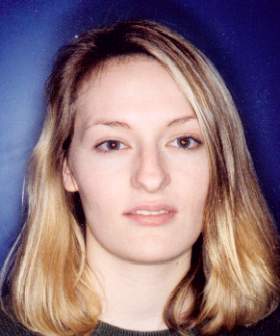 Hi! I'm Jamie, but you can call me "Pushy Bottom". If you think I've been bad, you cannot even imagine how much worse I will be to my next victim, you!


UPDATE: July 7, 2000: The Highest Court in New York State has upheld the reversal of the conviction. Manhattan's District Attorney says that the case will be retried.

FURTHER UPDATE: The New York Court of Appeals has denied a rehearing, but now Judge Wetzel has been re-appointed to try the same case: New York Post, September 21, 2000: OUTRAGE AS OLLIE GETS OLD JUDGE FOR NEW TRIAL

THE ELEVATORS DON'T GO TO HIS COURTROOM by Steve Dunleavy, who says that this is: "A little like Bill Clinton judging a beauty contest where you know the result by the bed check in the motel." (Did he get that idea from me?)

DA'S CZARINA IS CRUEL AND UNUSUAL.

Judge Postpones Retrial in Internet Sex Abuse Case

Here news articles about this decision:
---
A great tragedy has occurred because Oliver Jovanovic, the son of renowned chess-coach Svetozar Jovanovic of Yugoslavia and a former prodigy of chess himself, has been convicted of the "Cyber-Sex Torture" of a former Bernard College Student. Oliver Jovanovic faces a minimum of 15 years to life and a maximum of 25 years to life as a result of this conviction.

This case has been going on since November, 1996. All the major New York City dailies have frequently reported on the unfairness of the proceedings. This seems to be part of a nationwide trend in which defendants are no longer being allowed to present their defenses to the jury.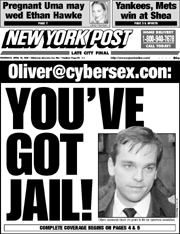 In the case of Jovanovic, the incident in question had arisen after an extensive exchange of sexually oriented e-mail, which is why this case came to be known as the "Cyber-Sex Case". In this e-mail, the "victim" detailed her sado-masochistic experiences and desires. For example, here is a quote from one letter she wrote to Jovanovic.
"[My boyfriend] was a sadomasochist and now I'm his sex slave and it's painful. But the fun of telling my friends 'Hey, I'm a sadomasochist' more than outweighs the torment."
In another e-mail, she said "I'm what those happy pain fiends at the Vault [an S&M club] call a pushy bottom," a term used to describe someone who is sexually submissive.
The problem with the trial was that this and numerous other exchanges of e-mail referring to explicit sexual and sadomasochistic acts were excluded from the jury. The jury was not allowed to know that the "victim" was actively involved in S&M. Thus, when she testified that she for the first time came to the house of Jovanovic, immediately stripped naked, allowed herself to be tied up and then allowed Jovanovic to pour hot wax over her, this seemed to the jury to be a heinous criminal act on the part of Jovanovic. The jury had no way of knowing that she had discussed this with Jovanovic prior to coming to his house and that this was what she wanted.
Even her strenuous efforts to have Jovanovic convicted constitute a manifestation of her perverted and demented character. The prosecutor told the jury, "She met him one night, and now she has made it her life's goal to ruin his life."


The trial judge ordered that the jury not be allowed to learn of the exchanges of e-mail between Jovanovic and his "victim" concerning sadomasochism on the ground of the New York Rape Shield Law. This is a law which is intended to protect rape victims from having to reveal their entire sexual history with persons other than the defendant while bringing a prosecution for rape.
Since the e-mails sent by the victim to Jovanovic included references to sex acts and acts of S&M she had performed with other men, the judge ruled that the jury was not allowed to see them.
It seems unlikely that the legislatures who passed the Rape Shield Law envisioned that a judge would consider sadomasochistic activities to constitute sex and that a jury would not be allowed to learn about a "victim's" proclivities towards sadomasochism.
If there is ever a case which is likely to be reversed on appeal, this is it. However, Oliver Jovanovic is in jail now and could spend a year in prison before his appeal is even heard.
The case drew public attention because Jovanovic, a doctoral student in microbiology at Columbia University, met his accuser in an Internet chat room. Oliver Jovanovic no longer actively competes in chess tournaments, but his father, Svetozar Jovanovic, is active as a chess coach and attended the New York Open Chess Championship two weeks ago.
Sam Sloan
---
UPDATE - July 24, 1999 - New York Post reports that relatives of complaining witness in Jovanovic case say that she is a chronic liar CYBERSEX VICTIM'S KIN: SHE'S A LIAR.
---
UPDATE: The appeal in the Jovanovic case was argued before the Appellate Division of the Supreme Court of the State of New York on February 2, 1999: 'Cybersex' Appeal Raises Shield Law, Consent Issues.
---

The Chicago Tribune Reports what I have been saying on this web site all along: Prosecutors across the country have knowingly convicted innocent men and sent them to their deaths.
---
MORE UPDATES: Oliver Jovanovic has been in jail for more than one year now, for a crime for which no informed jury would have convicted him. Meanwhile, the New York Post has come out again against this conviction.

Manhattan Sex Crimes Prosecutor Linda Fairstein, on a book selling tour, gloats to the Times of London about how she successfully hid evidence from the jury about this case. See: SEX CRIMES AND THE CITY; INTERVIEW; LINDA FAIRSTEIN - Times of London , Saturday, October 30, 1999.
---
What do you think? Express your opinion in the guestbook!
---
Here are links:


Contact address - please send e-mail to the following address: Sloan@ishipress.com