Dhammika Abeysinghe, a girl in Maiyahawa, Kandy, Sri Lanka
Dhammika is the young girl standing to the right. This photo was taken in front of her house in No. 31 Maiyahawa M.T., Kandy, Sri Lanka. The date on the photo is November 26, 1989.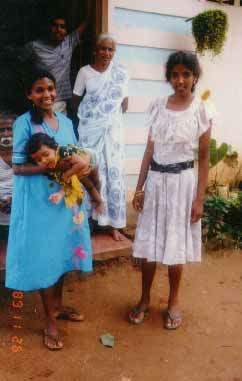 In 1987, I took Dhammika to Madras, India, back to Sri Lanka, and then to Thailand, but soon sent her back to Sri Lanka. I abruptly sent her back to Sri Lanka when I found that she was keeping a knife in her room. I do not associate with girls who keep knives in their rooms.

Last year, I received a letter from Dhammika. She wants a second chance. She wants for me to come to Sri Lanka and pick her up there.

Here is a link: Neetah, another girl in Kandy

Here is a News Article about Kandy . Here are Photos taken in Kandy .
---
Here are links:

Contact address - please send e-mail to the following address: Sloan@ishipress.com