Czar Nicholas II and His Family continue to be Center of Controversy
Probably most of the young viewers who say the movie "Anastasia" believed that they were seeing just another Hollywood fable with no conntection to historical events.

However, in reality, almost all of the characters depicted in that movie were real people, with the exceptions of Dimitry and Vladimir, the two con men, and Bartok, the talking bat.

On July 17, 1918, the Czar, his wife, Alexandra, their five children and four family attendants were herded into a cellar room by their Bolshevik captors and killed in fusillade of bullets and stabs of bayonets. According to a report by the Czar's chief executioner, two of the bodies taken from the Yekaterinburg cellar were burned, and the rest buried. The missing bodies belonged to the Romanov heir, Alexei, who was 13 when he was killed, and one of his sisters, either Maria, then 19, or her 17-year-old sister Anastasia.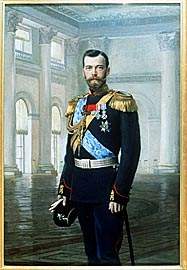 Czar Nicholas II
---

The bodies were dug up in 1991. They are now scheduled to be reburied on July 17, 1998, exactly 80 years after the Czar and his family were exectuted.

However, those who cling to the belief that Anastasia may have survived, along with others who distrust the official version of the execution, still dispute that these are the bones of the Czar and his family.
---
Here are links: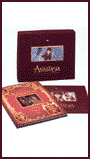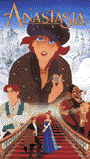 Contact address - please send e-mail to the following address:
Sloan@ishipress.com